Kato Zakros
Comming by Car
Kato Zakros is in the very East of Crete. Kato Zakros is the beach and harbour of Zakros, which is located some km inside Crete.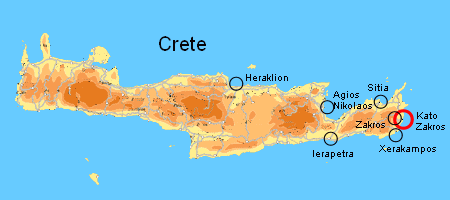 If you want to visit Zakros you first have to come to Zakros. From Zakros you must follow the new road to Kato Zakros. You should not miss a visit in Kato Zakros if you are near by. There is fuel and good service for cars in Zakros. For a map take a look to Interkriti Interactive Map an use the right mouse button.
There are more or less three ways to come to Zakros by car.
1) You can come from Sitia by car or bus. The road goes from Sitia to Palekastro and from there to Zakros. In Palekastro you must turn right. Turning left is the road to Vai.
2) There is a road from Xerakampos in the south as well. This has been very bad for a long time. 2005 it was really difficult to drive because rebuilding of the road was beginning. 2007 this road should be completely rebuilded, but there is no bus. From Xerakampos you can drive to Ziros via a spectaculous road with a very nice view. On a scooter this road could be a little bit windy. You can get fuel and service for cars in Ziros. From Ziros you can drive to Handras and Ierapetra or directly to Sitia.
3) A very nice road and my favourite is the lonly road over the mountains that takes a little bit longer time. The road crosses the road from Zakros to Palekastro (Sitia) some km north of Zakros in Adravatsi. At the beginning you will stop several times to enjoy the view over the area of Zakros. From Adravasti there is a road over the mountains to Karidi. From here there is a road north to Sitia and south to Sitanos, Handras and finally Ierapetra or Ziros. When you drive to Sitia you get a nice view over the bay from the mountains. Take a look on a map for this trip: Interkriti Road Map of Eastern Crete or better use the interactive map with the right mouse button: Interkriti Interactive Map. Do not drive here with a good map in your car.